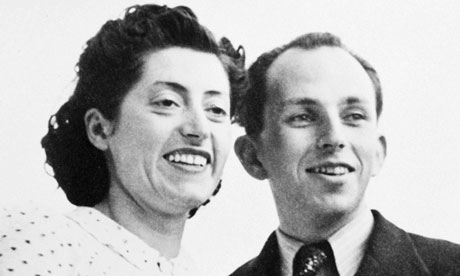 Raymond Aubrac and his wife Lucie, heroes of the French Résistance. Photograph: Sipa Press/Rex Features
Raymond Aubrac, one of the last resisters to the Fascist regime in 1940s France, has died - aged 97.
French journalist Agnes Poirier has written a moving tribute to Mr Aubrac
here
and I urge you to read it in its entirety but I'd like to highlight this section.
"What is most admirable with Aubrac, whose wife died in 2007, is the fact that he fought all his life against injustice. He and Lucie were always present at protests, speaking out, tirelessly visiting schools, writing columns in newspapers, battling and arguing, with as much passion as reason."
Being of a morbid disposition, I sometimes wonder what I would do if I were confronted with the same monstrous evil Mr Aubrac fought with so much courage. Would I resist? Would I keep my head down and hope to survive? Could I place my family in peril by resisting?
It's thanks to the actions of Mr Aubrac and his comrades that we don't have to face such terrible choices.
For the time being.
To conclude with Mme Poirier
"I have grown up with all of them but what will the next generation feel about this period of our history when the last résistant has passed away? The familiarity and proximity will have gone. It is our role to be Aubrac's living memory and to keep his fight alive."
Also, the film
Lucie Aubrac, about his escape from the Gestapo with the help of his wife Lucie is an absolute cracker.