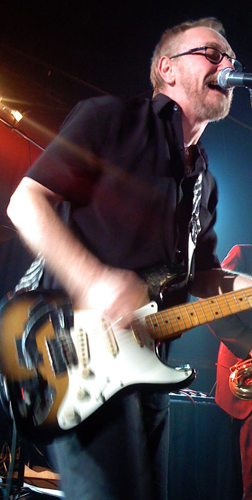 1. The
man
is a certified musical genius. I defy anyone to find a dud Ed Kuepper album.
2. True, some of the
Laughing Clowns
material may be considered sub-optimal but I have no time for this sort of hair-splitting nonsense.
3. Together with Chris Bailey, Ed Kuepper was one of the most important figures in the early punk movement and as such, his influence is still felt today.
4. He is also widely regarded as one of the grumpiest cunts in an industry largely populated by grumpy cunts. I remember watching him perform on
Rockwiz
. I can't remember who he was performing with, but she was almost pissing herself with excitement about performing alongside the legendary Ed Kuepper. Ed looked as though he was being checked for piles.
5.
Everything I've got belongs to you
starts with the line "I have designs on you that come from dirty books". How classy is that?
6. He always looks really, really grumpy.
7. I saw him play at the old
Prince of Wales
some years ago and he had a different guitar for just about every tune. Now
that's
perfectionism.
8.
Black ticket day
is just about the perfect song for driving.
9. He's also got an East German
Volks Polizei
armband. Cool!
10. I'm beginning to think my habit of washing down my anti-depressants with a glass of red wine each morning is maybe not such a good idea. Maybe I should switch to white.
UPDATE:
Blogger informs me that it "hates me and wants me to die" and won't allow me to post any comments.
Still here comrades.
UPDATE II
:
Blogger is a cunting cunt.
I feel like Helen Keller here